Batteries
Good quality, no compromises: When it comes to batteries for trucks and your commercial vehicles, we rely exclusively on quality.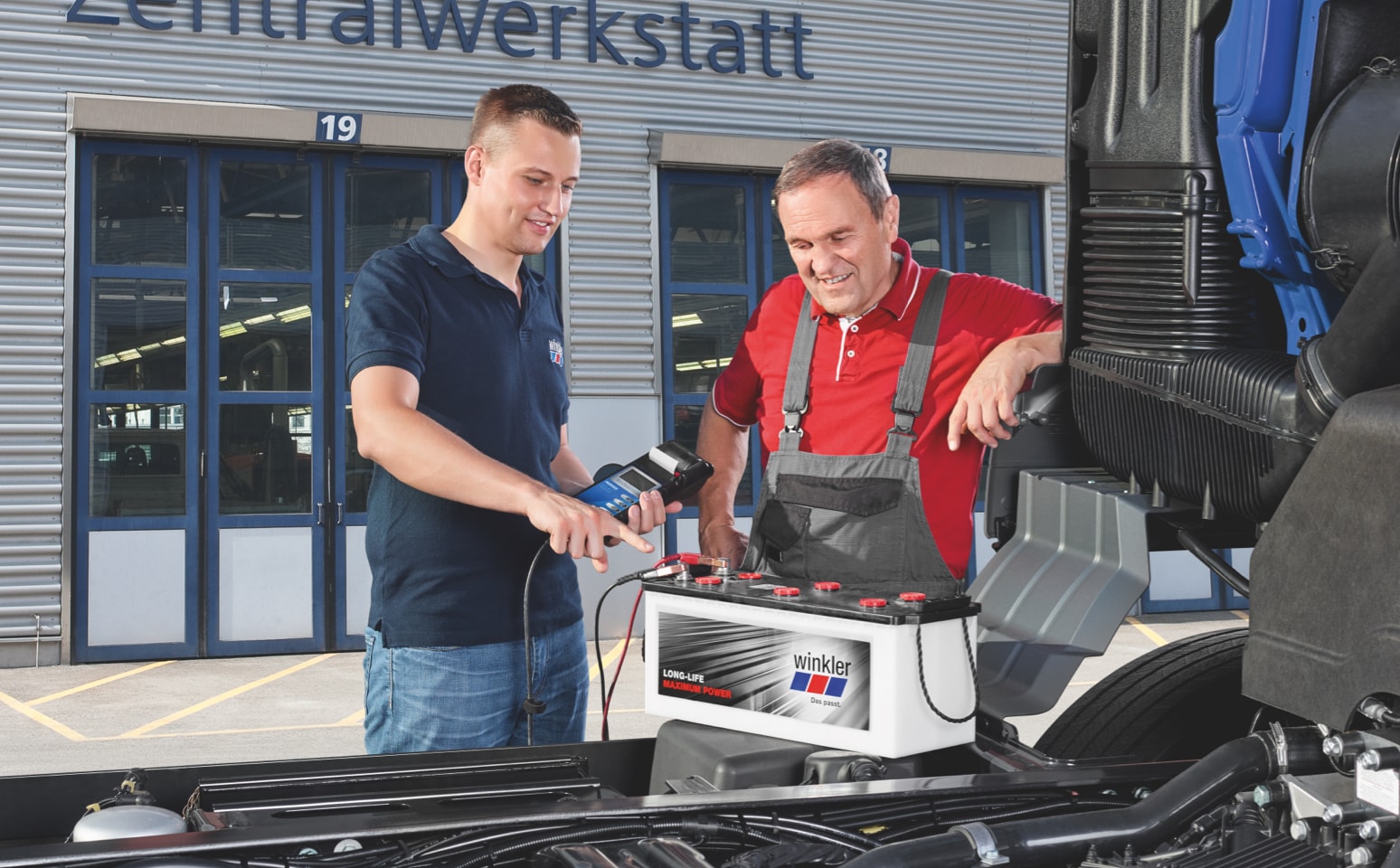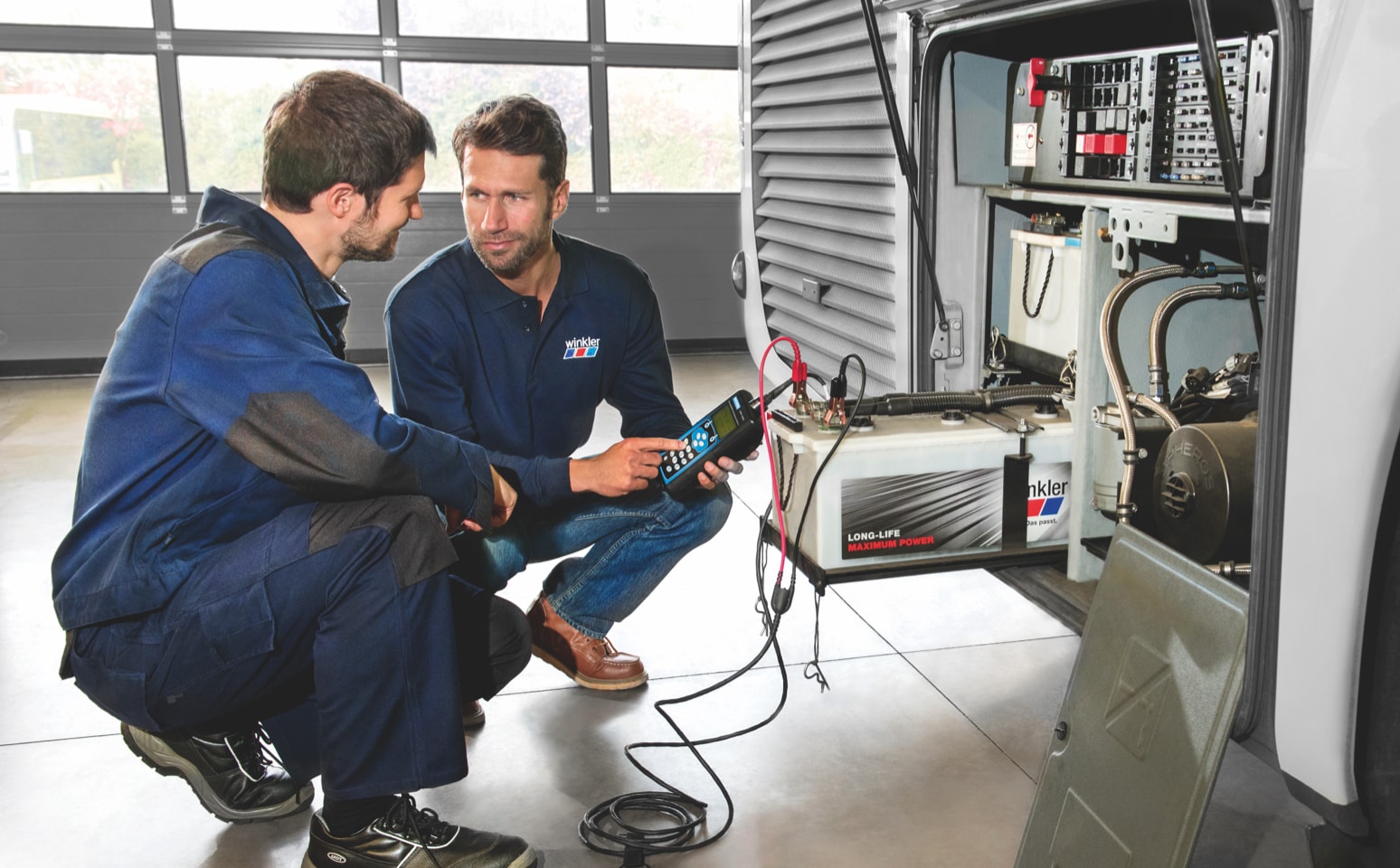 Reliable under eletrical loads
With leading original equipment manufacturers and our own high-quality brand, you are well equipped with reliable, top-quality vehicle batteries. From 2.2 Ah to 240 Ah, we offer the right batteries for any vehicle, the right technology for any application. We carry hybrid batteries, calcium/calcium, EFB, AGM, gel, and other special applications.

You'll also find all the accessories and products for the installation, care and maintenance of the batteries.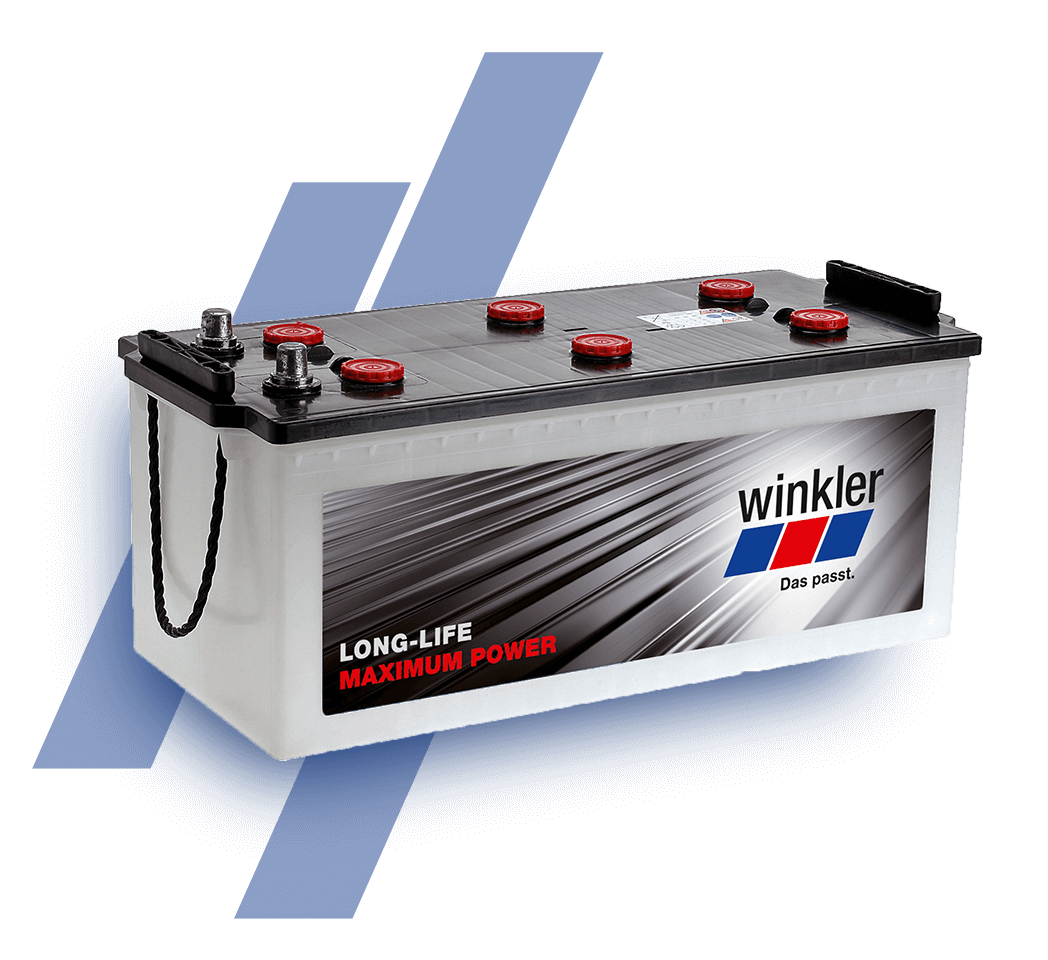 Tips for battery maintenance
What you need to pay attention to so that your batteries, even maintenance-free starter batteries, stay working for a long time without any problems.
Not every battery is equally the right choice for every commercial vehicle. The requirements that batteries have to meet are too different for that. On the outside, the batteries look similar. Their main differences are in size, capacity and weight. But there are definitely a number of other criteria that you should consider when selecting the right battery for your vehicle: How high is the maximum starting power, how long are the downtimes, what physical loads does the battery have to withstand?
Buses used for city driving have different battery requirements than trucks, which are mainly used for long distances. Municipal fire departments and commercial vehicles have other requirements. In agriculture, harvesting machines are not in operation all year round, but they still have to work well and with reliability. So the battery should not discharge, even when the machine is not used for a long period of time.
Depending on the type of battery, some precautions might need to be taken for assurance: How much effort do you want to invest?
For installation in a tractor or construction machinery, it may make sense or even necessary to use a vibration-resistant battery, depending on the design and intended use, in other words, a battery with high vibration resistance and leakage protection.
The batteries are ideal for various applications, depending on their design and battery technology. For example, valve-regulated lead-acid batteries or gel batteries are generally not used as starter batteries, especially in larger vehicles, because their internal resistance is higher than that of non-sealed lead-acid batteries of comparable strength. Absorbent glass mat (AGM) batteries are more suitable for this purpose.
In recent years, batteries have had to meet steadily rising demands, a direct consequence of the fact that vehicles and their functions are being controlled and monitored electronically at an ever increasing rate. In other words, the on-board electric system has become more complex and demanding, and the battery must be adapted in terms of strength and capacity to meet its needs.
Along with the electronic components comes equipment, such as electrically operated auxiliary air conditioners, which operate independently of the engine and require a relatively large amount of power. However, they are important for maintaining a pleasant climate in the cab and make sure that drivers can really relax during their breaks, especially on long tours.
These are the reasons why a sufficiently Large capacity it preferred. At the same time, most operators are looking for Batteries that have a long service life and require little maintenance.
From the good old lead-acid battery to the latest, virtually maintenance-free battery techology, whether 12- or 24-volt, with 135 Ah capacity for your tractor or 140 Ah for your truck, we have the technology in stock to power the electrical system of your commercial vehicles. For every starting capacity and every energy requirement, the right accumulator and the right starter battery is available. If you have any questions, contact our technical specialists. We are happy to help you!
Of course, our assortment also includes everything that goes beyond the batteries themselves: starting with the charger precisely tailored to your needs, to all the connecting cables and plugs that your vehicle might need, up to the necessary installation materials to connect the battery and electronics safely and correctly.
A good truck battery usually weighs at least 35 kilograms and up. When used regularly, it usually lasts about four to five years. When checking a battery, make sure that the open-circuit voltage in the vehicle's electrical system remains constant. Other than that, even good wet batteries are mostly maintenance-free these days.